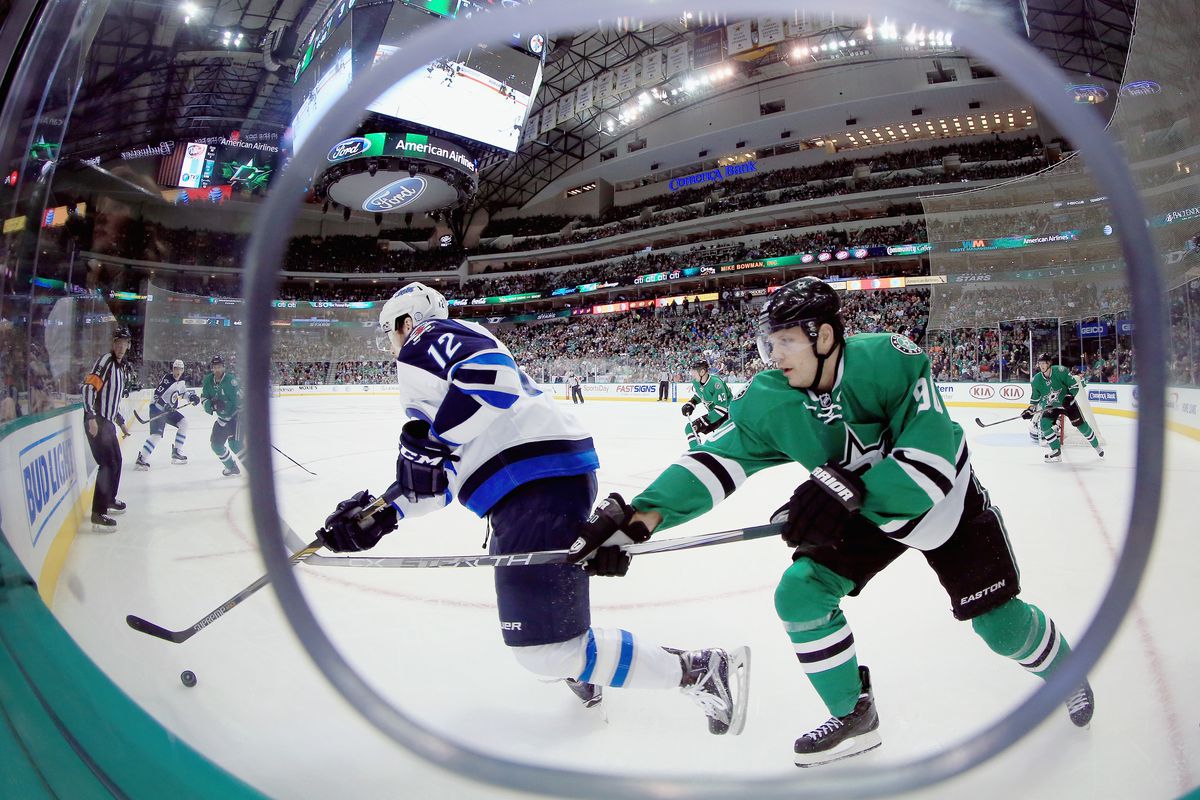 Dallas Stars convincing win 4-1 over fierce rival Winnipeg Jets, Dergachyov suspended for 7 games, Yakimov injured for a week
Dallas Stars managed to steal the show at their home stand American Airlines Arena in a convincing win 4-1 against their fierce rival, Winnipeg Jets. Despite lot of bright spots, namely the team's improved overall defensive play and more consistent scoring and goaltender performance from Joonas Korpisalo, the game also had one bad thing worth of notion - suspension of Alex Dergachyov for the next 7 game for was what called as an attempt to injury just a minute to go before the end of the game. Alexander Dergachyov had a good thing going - it seemed like he's finally having his break-out year this season as he grown to his ceiling. Dergachyov had 6 points in just 5 games (leads team with Grigorenko, both 6 points in 5 games) and now he will be forced to sit in the pressbox and just watch the next games as spectator. Hopefully, it will not stop him from continuing to impress the league.

It has been also announced that another young forward, two-way centreman Jayce Hawryluk has been called up to Dallas from Texas (AHL), to replace Dergachyov on the roster.

Also, Bogdan Yakimov is dealing with a minor injury that could take him out for the next week or so, per reports. Another forward will be needed to be called up from the AHL soon.
» Full story

Flames face frustrated foes!
Dergachyov continues to impress, named first star of the game helps to overcome the Blues
Slow start to the season - hoping to put it behind in the next game against the Blues
» More breaking news in the forums...
Scoreboard
| | | | | | | |
| --- | --- | --- | --- | --- | --- | --- |
| | Calgary Flames | 1 | | Toronto Maple Leafs | 3 | Box |
| | Colorado Avalanche | 0 | | Montreal Canadiens | 4 | Box |
| | New York Rangers | 4 | | New York Islanders | 3 | Box |
| | Los Angeles Kings | 3 | | Philadelphia Flyers | 2 | Box |
| | Buffalo Sabres | 3 | | Pittsburgh Penguins | 1 | Box |
| | Ottawa Senators | 4 | | Washington Capitals | 1 | Box |
| | Columbus Blue Jackets | 5 | | Arizona Coyotes | 4 | Box |
| | Tampa Bay Lightning | 1 | | Florida Panthers | 5 | Box |
| | New Jersey Devils | 2 | | Nashville Predators | 4 | Box |
| | Detroit Red Wings | 3 | | Minnesota Wild | 4 | Box |
| | Winnipeg Jets | 1 | | Dallas Stars | 4 | Box |
| | Boston Bruins | 2 | | Chicago Blackhawks | 4 | Box |
| | Vancouver Canucks | 4 | | Edmonton Oilers | 3 | Box |
| | St. Louis Blues | 5 | | San Jose Sharks | 4 | Box |
President's Trophy Race
| | Team | GP | W | L | OTL | PTS | W% | GF | GA |
| --- | --- | --- | --- | --- | --- | --- | --- | --- | --- |
| | Ottawa Senators | 5 | 5 | 0 | 0 | 10 | 1 | 16 | 9 |
| | Los Angeles Kings | 4 | 4 | 0 | 0 | 8 | 1 | 16 | 10 |
| | Chicago Blackhawks | 4 | 3 | 1 | 0 | 6 | 0.75 | 17 | 14 |
| | Boston Bruins | 5 | 3 | 2 | 0 | 6 | 0.6 | 19 | 18 |
| | Pittsburgh Penguins | 6 | 2 | 2 | 2 | 6 | 0.5 | 17 | 22 |
| | Nashville Predators | 4 | 3 | 1 | 0 | 6 | 0.75 | 14 | 11 |
Art Ross Trophy Race
| | Player | GP | G | A | PTS | +/- | PIM |
| --- | --- | --- | --- | --- | --- | --- | --- |
| | Corey Perry | 5 | 3 | 5 | 8 | 4 | 8 |
| | Alexander Nylander | 5 | 3 | 5 | 8 | 2 | 0 |
| | Cody Hodgson | 5 | 5 | 2 | 7 | 3 | 2 |
| | Jakub Voracek | 5 | 3 | 4 | 7 | 4 | 2 |
| | Thomas Novak | 3 | 3 | 4 | 7 | 0 | 2 |
| | Vladimir Tarasenko | 4 | 3 | 3 | 6 | 3 | 2 |