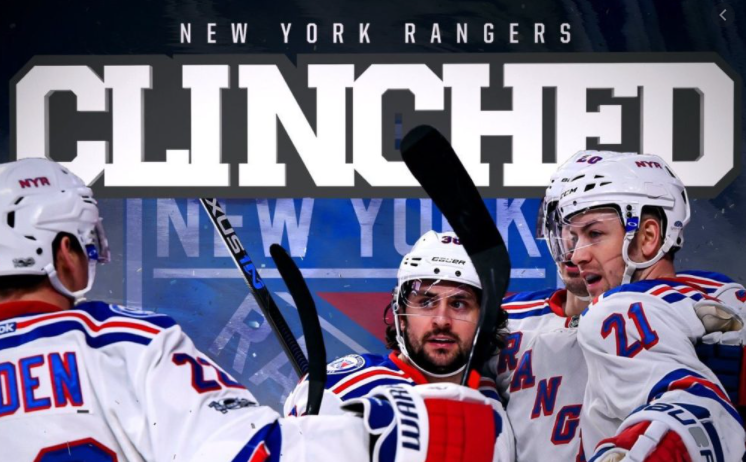 CLINCHED
Now 7 points up with only 3 games to go, the Rangers have clinched first place in the Atlantic.

"It's a great feeling" team captain Michael Dal Colle said. "Last year ended way too soon".

Fans recall last year tying the Blue Jackets on the last day of the season for 8th place, but missing the playoffs on breakers.

"I know we were going through new management, but everyone really wanted to get in at the end" said Ryan Suter, a near-deadline acquisition that management made to send a message that the team wanted to win-now.

Off season additions of Nash, Toews, and of course Jack Eichel ended any type of draft-prospect rebuild.

"Winning the division was always the goal," said Eichel. "Making the playoffs would fall into place from there. We wanted to show we were at the top of the Atlantic." » Full story

Kassian trade highlights busy trade deadline for Avs
Pens Buyers At Deadline, Acquiring Boedker For Playoff Push
Shakeup in Tampa Bay!
» More breaking news in the forums...
SCOREBOARD

| | | | | | | |
| --- | --- | --- | --- | --- | --- | --- |
| | Tampa Bay Lightning | 3 | | New York Rangers | 5 | Box |

President's Trophy Race

| | Team | GP | W | L | T | PTS | W% | GF | GA |
| --- | --- | --- | --- | --- | --- | --- | --- | --- | --- |
| | Ottawa Senators | 82 | 54 | 24 | 4 | 112 | 0.683 | 282 | 210 |
| | Chicago Blackhawks | 82 | 53 | 25 | 4 | 110 | 0.671 | 282 | 239 |
| | Montreal Canadiens | 82 | 51 | 25 | 6 | 108 | 0.659 | 279 | 202 |
| | New York Rangers | 82 | 47 | 29 | 6 | 100 | 0.61 | 283 | 229 |
| | Dallas Stars | 82 | 45 | 27 | 10 | 100 | 0.61 | 253 | 214 |
| | Edmonton Oilers | 82 | 43 | 27 | 12 | 98 | 0.598 | 269 | 224 |

Art Ross Trophy Race

| | Player | GP | G | A | PTS | +/- | PIM |
| --- | --- | --- | --- | --- | --- | --- | --- |
| | Jeff Carter | 82 | 34 | 60 | 94 | -3 | 56 |
| | Thomas Novak | 82 | 37 | 54 | 91 | 15 | 12 |
| | Tyler Seguin | 82 | 40 | 48 | 88 | 24 | 18 |
| | Eric Staal | 82 | 44 | 43 | 87 | 2 | 10 |
| | Connor Brickley | 82 | 38 | 46 | 84 | 14 | 62 |
| | Taylor Hall | 77 | 38 | 45 | 83 | 11 | 62 |

STANLEY CUP CHAMPIONS

Dallas Stars
Pacific Division
Martin Brichta

Regular Season
53-20-9

Playoffs
16-6

ART ROSS TROPHY

Marian Gaborik
Tampa Bay Lightning
Southeast Division

Games: 82
Goals: 47
Assists: 41
Points: 88

MAURICE RICHARD TROPHY

Marian Gaborik
Tampa Bay Lightning
Southeast Division

Games: 82
Goals: 47
Assists: 41
Points: 88